We help freight forwarders
to increase sales results by automating their sales process
RATE MANAGEMENT
Quotiss algorithm simplifies carrier contract management. Manage freight rates 100x faster.
AUTOMATED QUOTES
Sales reps can generate and send freight quotes instantly, and automatic calculation eliminates manual errors.
BUSINESS INTELLIGENCE
Every quote is recorded in the history of the client, with full analytics and real-time updates.
Send more quotes in less time and win more business!
Configure
Configure your most efficient pricing strategy using unique Quotiss algorithm. Remove 90% of complexity from your freight management process and execute instant freight revisions.
Price
Your freight rate structure is standardized, yet very flexible and tailored to your business needs. Real time pricing revisions enhanced by real time quote analytics module.
Quote
Generate and send 100% accurate freight quotes in less then a minute! Quotes are fully automated, but fully tailored to clients' needs: personalized rate level, email text, rate format – all in just one click!
Cloud Technology
Quotiss allows instant sharing and authorized user access from any device.
Learn more>>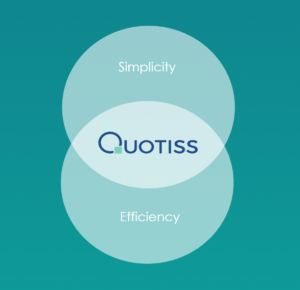 Simplicity and Efficiency
The core of Quotiss methodology is Pareto Principle (also known as 80/20 rule). It constitutes that 80% of effect comes from 20% of causes. Once those 20% are identified correctly and accelerated, the efficiency of any process can be dramatically improved.
Pareto in shipping