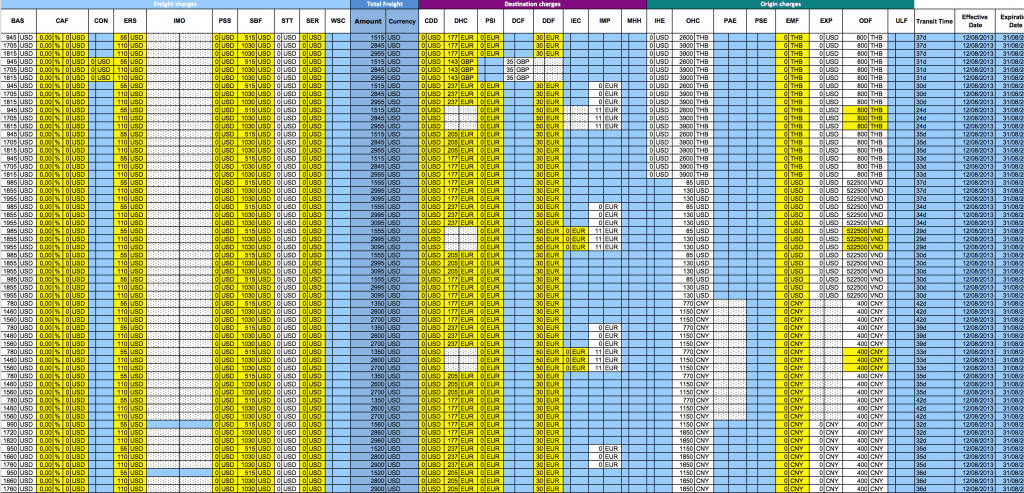 It's not a secret, that when it comes to shipping and logistics, there is a lot of potential for optimization. Freight forwarders have to deal with the enormous complexity of the freight ratesheets they receive from their suppliers. Most of the freight quote requests are still handled via email in MS Excel, Word, or even a Whatsapp text. There are no unified standards in the industry.
There are approximately 50 000 freight forwarders in the world. They buy transportation services from various suppliers and sell it to shippers, adding more value to the supply chain by taking care of the full delivery. It's also not a secret, that it's hard to find freight rates online, and the attempts to digitize freight rates have failed.
Freight Ratesheets in Container Shipping
Let's take container shipping as an example. The vicious circle of every freight forwarder: request freight quote from a shipping line, deal with the horrifying complexity of rate sheets of multiple shipping lines, manually retype rates and surcharges into own format, repeat for every quote.
According to the Shanghai Container Freight Index, spot rates change at least once a week, adding up to 50 rate revisions per year. Let's assume that a typical freight forwarder
works with 5 shipping lines and on 4 trades;
receives 4 rate sheets weekly from each line for each trade.
Now we do the math: 50 000 freight forwarders x 50 revisions x 5 shipping lines x 4 ratesheets = 50M. That's 50 million Excel or PDF files with complex rate structures that are produced and emailed back and forth every year. This looks like the definition of inefficiency, as most of it is done manually.
These rate sheets come in various formats, currencies, frequencies, colors, and shades. Even within one shipping company, formats vary from branch to branch. These Excel-based structures are extremely complicated to understand even for logistics experts, which makes further freight rate analysis time-consuming and error-prone.

(An example of a typical rate sheet from one of the shipping lines)
Freight forwarders spend their days analyzing the freight ratesheets and quoting freight rates for their clients. Even the largest global freight forwarding companies struggle to set up an electronic exchange of rates or at least negotiate a consistent format of ratesheets with the shipping lines.
According to Quotiss statistics, it takes freight forwarders up to 24 hours to prepare a freight quote, 10% of sent quotes contain manual errors, costing the industry 10 billion USD in lost revenue.
Rate Management Software for Logistics
There are talks about disruption, innovation, and digitization in the supply chain industry. Freight forwarders get access to more and more digital tools each year. There is a big interest in digitizing the customer interface: offer online freight quotes, online bookings, online tracking, etc. All these customer-facing digital initiatives are very necessary, but hardly possible without digitizing the back office of the freight forwarder.
It would be great if digital freight tools could help to quote freight rates instantly or to shop for the best freight quote online. The truth is, it will only be possible when the freight pricing structure is simplified and unified across the industry.
It is necessary to start from the basics – automate and digitize your freight rate management internally, and after that integrate your automated freight quotes online.
Quotiss software could be the right solution to digitize freight ratesheets using a simplified upload mechanism. Quotiss is a practical tool, which automates all kinds of freight ratesheets in a smart and simple way. All freight rates from all suppliers in one place, available instantly to everyone in the organization.
With Quotiss, you can increase your sales productivity without increasing headcount. When your business is driven by efficiency, it directly impacts the company's bottom line.
Would You Like a Quick Start with Quotiss?
Click here to register your company. We'll activate your company's profile and help with the initial settings and user onboarding. You can start uploading your freight ratesheets and quoting freight from Quotiss on the same day we sign the deal.