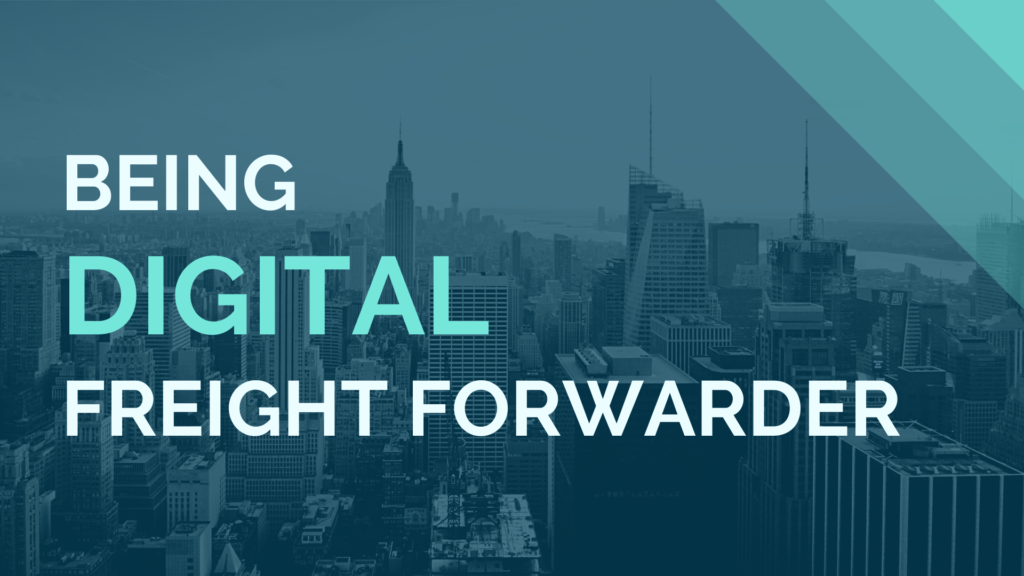 Do you believe in Digital Freight Forwarders? Or do you think they are mystical creatures, like unicorns? Oh, wait… Flexport is both a digital freight forwarder and a unicorn!
We can argue if being a digital freight forwarder is actually a thing or not, but without a doubt, it's cool to be a "digital forwarder" these days. At Quotiss, we wish that every forwarder becomes "digital". In this article, we explain how you can maximize the benefits of freight digitalization in a fast and simple way.
Who is a Digital Freight Forwarder?
Flexport is by far the most famous and the most funded "Digital Freight Forwarder". Flexport.com has a user-friendly interface: their clients can get quotes online, place bookings and track their shipments. But what is behind the counter of that beautiful shop-front?
Behind the counter, there is a young freight forwarding company, with the 'same old' business model of a middle man between the carrier and the customer. Their source of income as a forwarder comes from charging a premium for their service of arranging the transport of goods from A to B. This means, that they face exactly the same commercial and operational constraints as any other freight forwarder. So, what is the difference, then?
The difference between a Digital and Traditional Freight Forwarder
Obviously, the difference is in the "Digital" component. It is assumed that the "Traditional forwarder" relies on Excel as a main tool for the business, and "Digital Forwarder" has a smart digital platform that connects and integrates all aspects of their business. The obvious benefits of the digital setup are: 1) speed; 2) automation, 3) cost-efficiency. 4) transparency.
But there is a problem with this definition. First of all, there is a limit to connecting and integrating things into one system. As they say, "you can only be as digital as your supplier". Some suppliers, like Maersk, are more advanced in the digital field. But the majority of the carriers allow limited integrations if any. Until this happens, all freight forwarders have to deal with freight ratesheets and manual rate requests.
Secondly, in 2021, 99.999% of traditional freight forwarding companies stopped using faxes, telexes, pagers, and hand-written notes. So, are they digital forwarders now?
How to become a Digital Freight Forwarder?
The term "Digital Freight Forwarder" has become the synonym of Freight Digitalization.
Flexport rises the awareness for freight digitalization in the industry. The news of Flexport raising new financial rounds could be a worrying sign to those forwarders who do not have the digital strategy yet. There is no need to worry – just take it as a sign and use the opportunity to upgrade your own tech.
The majority of freight forwarding companies today use some kind of software to manage their business processes. So, are they all digital forwarders? Well, no.
Some software solutions (like Excel, Salesforce, SAP) are not made for freight. There is a certain level of customization for these tools, but integrating them into one smooth forwarding software system can be extremely challenging. This is a very big limitation for the forwarding companies if they want to rely on such software solutions.
Traditional freight forwarder becomes digital freight forwarder only with the right software designed for freight forwarders.
Why is Digitalization in Freight Forwarding so Slow?
Cargo transportation, compared to passenger transport, is still at the beginning of the digitalization journey. Some business processes are more automated, some are less – but, all in all, there is still a long way to go.
Remember, in technology, one has to run to stand still (said The Red Queen). With the modern pace, certain trends go out of fashion fast. What looked like a technology of the future 5, 10, 15 years ago – now is collecting digital dust on the shelf in a virtual closet.
Some time back, 'Booking.com for freight' was a hit and we witnessed plenty of freight marketplaces rising like mushrooms after the rain. Later, the 'Blockchain for freight' became hot, and we all followed news on Maersk and IBM's project. Now there is a trend for an 'Online freight shop' – which shall pass, too. These trends come and go for one main reason: customers (importers and exporters) don't want a revolution in freight. They just want to get a great transport service at a great price.
Digitalization is Essential for the Forwarding Business
The ultimate goal of freight digitalization is to automate business processes and improve experiences for the people who matter the most for growing your business: your team and your customers.
"Online freight marketplace powered by blockchain" does not equal a great transport service, and it definitely doesn't guarantee a good price to a client. And we are getting to the most important point: it's the market expertise & professionalism that matter the most to the customers. Digitalization is not enough for running a successful forwarding business.
Freight software can help to highlight your professionalism by increasing your business process efficiency.
A good idea would be to start with sales process automation, as this has a direct impact on sales performance in the company. Sales automation means digitization of manual, time-consuming sales tasks using software, artificial intelligence (AI), data analysis, and other digital tools. It aims to simplify the daily sales workflow and bring transparency to the commercial aspects of the business.
Freight software solutions on the market are very different in terms of their features, functionality, price, and many other factors. Beware that using freight software that isn't a great fit for your company can actually do more harm than good. Use this guide to pick the best-fit freight software solution for your business.
Being Digital Freight Forwarder. Powered by Quotiss
Quotiss is a sales automation software for freight forwarders. With Quotiss, you can digitize the following internal business processes:
Rate management
Customer Relationship Management
Quoting freight + Online Quote Widget
Sales Follow-ups
Sales Analytics
With Quotiss, your team will no longer have to maintain bulky Excel ratesheets, create quotes manually, waste time on searching quotes in the mailbox.
Process Automation and Efficiency are the key benefits of Freight Digitalization. Fill in this form to register for a free trial of Quotiss software. It only takes a few seconds!