The importance of having transparency in sales activities is crucial for any business, but in freight forwarding, transparency has never been the case.
It is very difficult to know how many freight quotes have been sent today, this week, or this month. It is almost impossible to monitor the margins on freight and local charges in those quotes. Sales managers must rely on unstructured and often biased information.
The lack of transparency is also an issue for sales reps themselves – they often have to search for the actual valid freight rates in various files and emails, use Word or Excel templates to prepare quotes, and save them on the shared drive. If there is no process for the follow-up, it is impossible to improve the results.
Why Data is Important in Freight Forwarding?
If you are responsible for delivering on a sales target, the key to gaining control of the revenue is to have real-time access to your sales performance. By knowing the below metrics, you and your team can perform on a different level:
number of quotes sent per day / week / month
number of accepted quotes per day / week / month
number of new clients added per day / week / month
rate levels and rate changes in real-time
average margin
win rate
If you do not have this information, delivering your sales KPIs is guesswork. Studies show that when employees know their performance and have an instant overview of their KPIs, they improve their work. Focus, motivation, and accountability come when teams can see where everyone stands in just a glance.
Delivering the Transparency 
Transparency in freight sales can only be achieved when both rates and quoting are managed via the same platform. Quotiss provides such a platform for the freight forwarders.
Step One: Upload the Ratesheets
In Quotiss you can upload sea, rail, and air freight rates and pricing guidelines via an easy template. The uploaded and published rates become available to the sales team right away.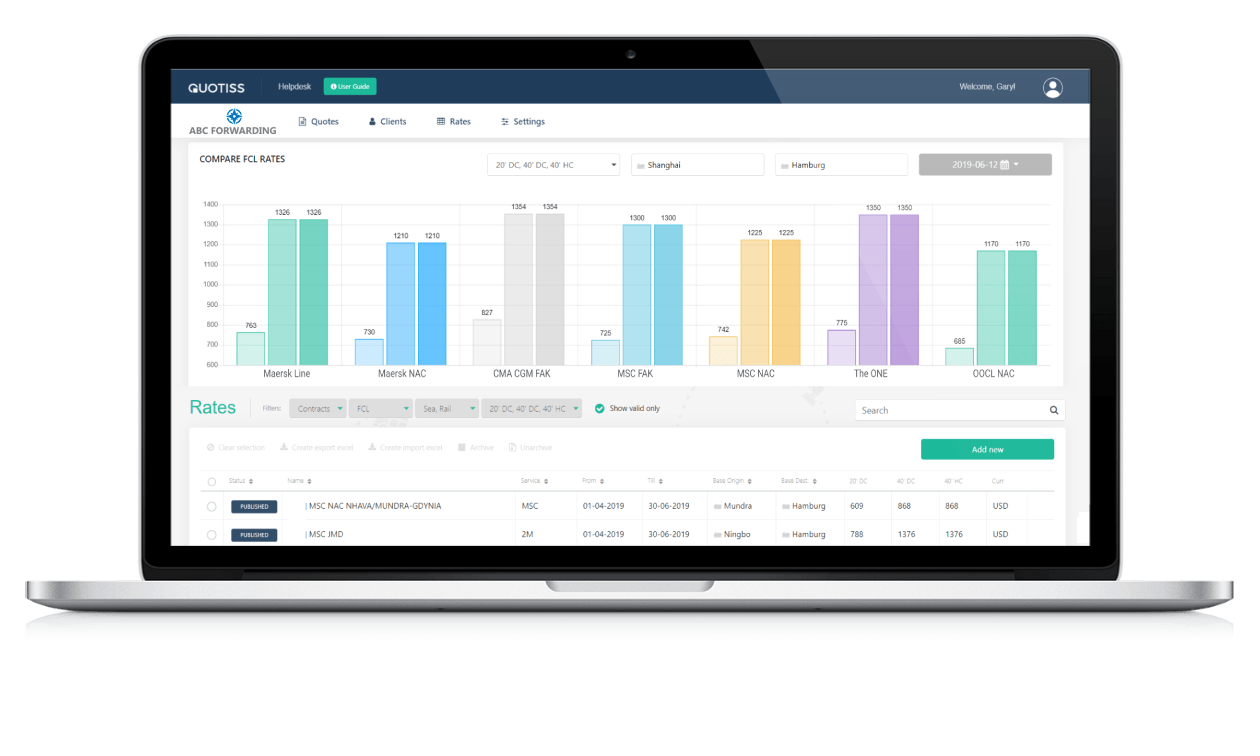 Step Two: Create and Send a Quote
Generate fully customizable freight quotes, which can be emailed to customers directly thanks to the smooth email integration. Follow up on the quote status – mark the accepted or declined quotes accordingly.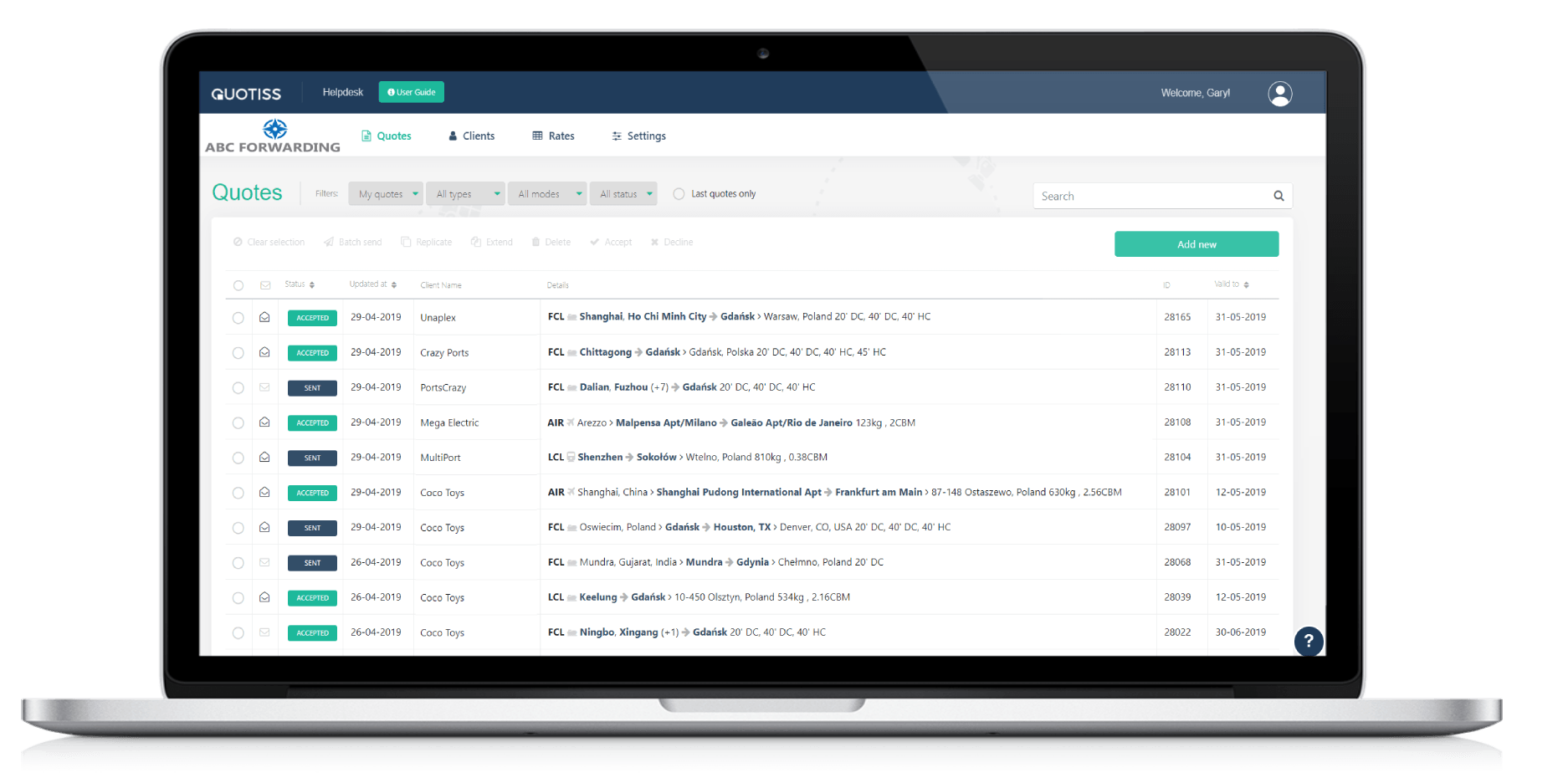 Step Three: Visualize and Analyze
Quotiss dashboard is a powerful visualization tool that shows a history of rates per carrier, customer statistics, sent and accepted quotes per person or team, average margins, etc. All data is available in real-time, automatically.
Quotiss dashboard brings all your KPIs and critical metrics into a user-friendly display. It keeps everyone in the sales team on the same page when it comes to sales performance, enabling better communication and collaboration across the teams. It also allows us to set measurable goals and get immediate feedback.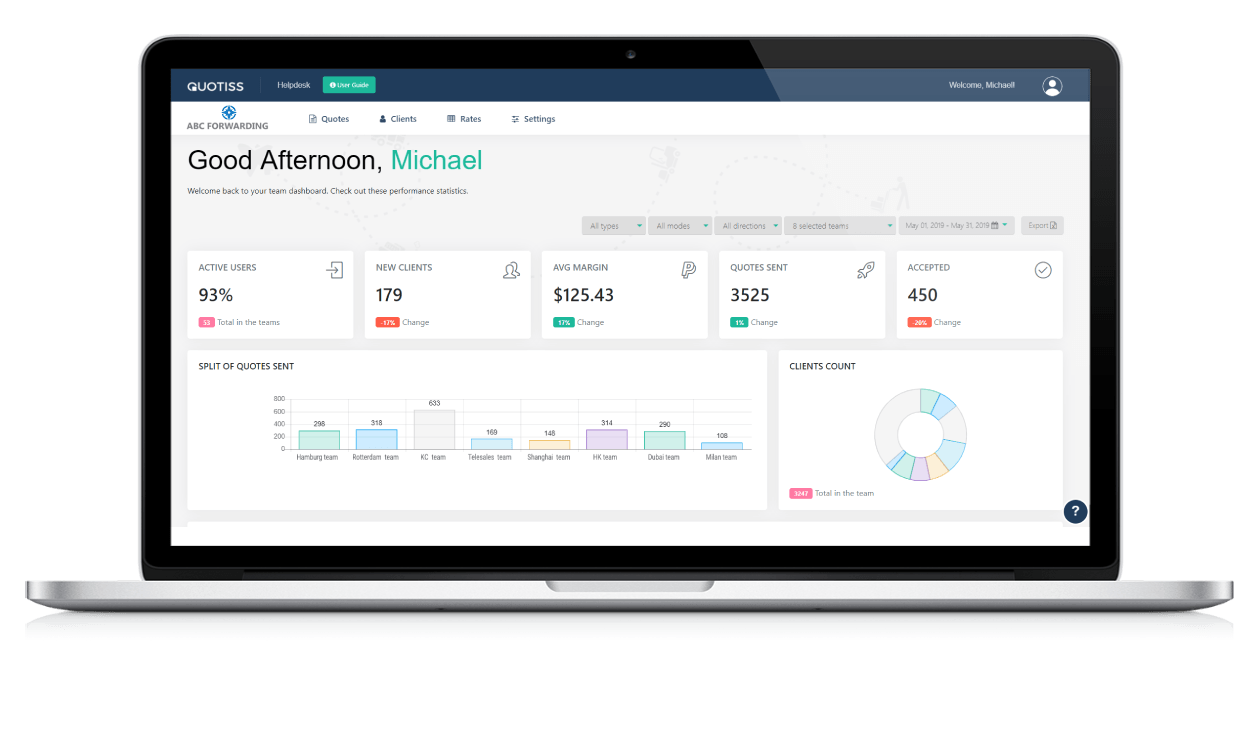 Quotiss can give a quick boost to the transparency and efficiency of your freight forwarding business.
Click here to register your company online. We'll activate your company's profile and help with the initial settings and user onboarding. You can start uploading your freight ratesheets and quoting freight instantly from Quotiss on the same day we sign the deal.