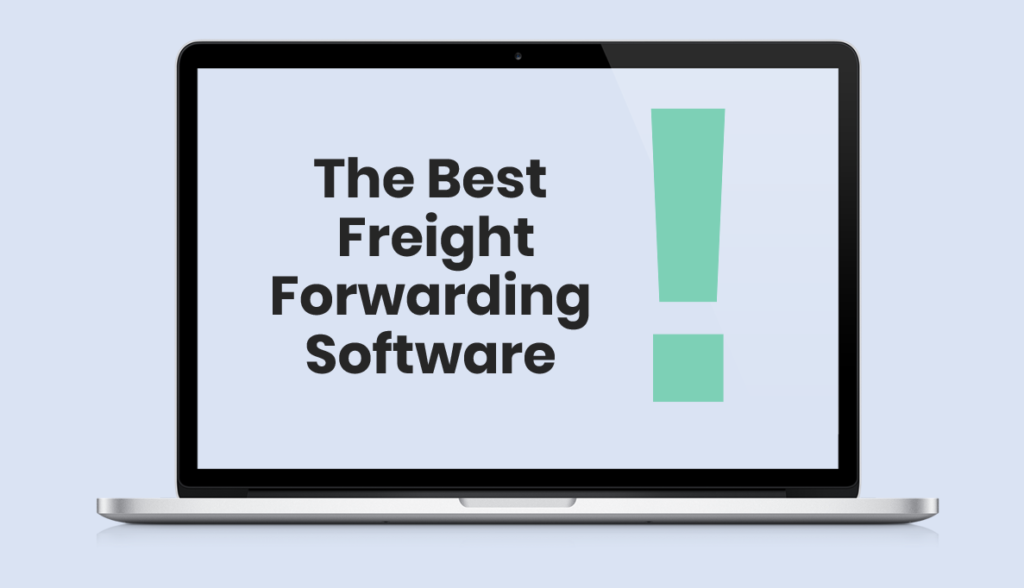 Warning: the best freight software doesn't exist.
Every freight forwarder is now bombarded with messages about the inevitable digitization of freight and the equally inevitable death of traditional analog forwarding. Chances are, you've already reviewed a couple of software options for your sales team. Maybe, you've implemented some tools by now, but still, monitor the market for better freight software solutions.
Software solutions on the market are very different in terms of their features, functionality, price, and many other factors. Some of these solutions are (technically) the "most-used" or "highest-reviewed" of all the available tools—although, it varies greatly depending on the source you turn to. The truth is you don't want to look for the "best of the best." Rather, you want the best-fit freight software solution for your business.
Finding the right freight software for your sales team isn't something that's going to happen overnight. But, by investing the proper amount of time and energy, you'll ensure this will pay off in the future. And our 5-step guide will help you navigate in the sea of options.
1. Start with your team
First, get an idea of what a "day in the life" looks like for your sales rep. Ask questions regarding their efficiency and impact on customer experience, as this is what you want to maximize with the new software. Ask for input regarding the desired features in freight software for them. For example:
What tasks do they typically perform every day?
Where do they regularly face slowdowns or obstacles?
What actions or efforts on their part are most appreciated by customers?
Next, review their current tools. Generate discussion around topics such as:
Where does your current solution allow them to be most effective?
Where does it fail or cause frustration?
What tasks do they find themselves doing over and over?
What features most benefit the customer experience, and what do not?
Don't forget to cross off the unrealistic expectations.
2. Determine your specific needs
This next step follows the previous – consider how the use of a new freight software fits into your current sales processes. Ask tactical, customer-centric questions such as:
(a) What formats do you need to use?
Speaking of sales & procurement process, think about the channels and formats that your customers & suppliers use. Is it an e-mail with a detailed freight quote in attachment or a quick all-in indication? Is it a message in WhatsApp (WeChat) or a large Excel freight ratesheet with all possible port-port combinations and costs? Or maybe, a link to their online self-quoting platform, like Maersk Spot?
The right freight software should allow you to be very efficient with managing your suppliers and very flexible with catering to your clients' needs in a format that they want to use.
(b) What specific features and functions do you need?
Sales automation software is meant to streamline your sales processes as a whole. How these tools do so depends on the individual tool in question. Most freight software solutions have their own fixed set of functions and features. It's up to you to determine which combination will benefit your organization the most. The bare minimum is this (for all the obvious reasons):
Internal collaboration
Reporting and analysis
Most freight software solutions come with the above features, so you will have to consider the quality and simplicity (ease of use) of these features.
(c) What other tools need to connect?
Chances are you already use other digital tools, like CRM or TMS. Your new freight software solution should integrate well with the software you currently use. Your commercial business data should be synced to ensure the most accurate information.
3. Make a list of options and narrow it down
Make a list of all of the software solutions that could potentially benefit your sales team. You can use software discovery and comparison tools like Capterra. Select the right software category: Freight Software, Shipping Software, Logistics Software. Apply filters to sort the results. Read the verified user reviews.
Add important information about each solution: price, contract terms, key features, etc. Go through the list with your team, and focus on the features each software solution highlights.
Narrow the list down to at most five choices:
remove any software that is not designed for freight forwarding.
remove any software that doesn't have the features you're looking for.
remove any software that is too complex.
remove any software that is too expensive.
4. Test-drive your shortlist
Contact each software provider to schedule a demo of their product. These demos are created to show exactly what potential customers should expect from the software. Additionally, you get to engage with the provider and gather more information about them.
To further help you come to a decision, you'll likely be able to sign up for a trial. It's important to implement each tool within your sales team instead of testing it only on the simulated situations. While it may seem a bit risky to undertake this sort of "trial by fire," that's the point.
The best solution for your team will be the one they're able to easily pick up and run with. On the contrary, if your sales team isn't able to quickly get along with the new tool, chances are this will be only the beginning of your troubles with this software.
At this point, you'll have covered pretty much all the bases:
Assessed your options from a variety of perspectives and angles
Viewed demos of each of your top options in action
Experienced hands-on the tools that most aligned with your needs
All that's left now is to sign the deal and start the onboarding of your team with your new freight sales software!
5. Evaluate your decision
After you've had time to integrate your new freight software, you'll want to evaluate whether you made the right decision or not. This involves revisiting everything we've discussed thus far, and determining whether your tool of choice has:
Lived up to your expectations
Helped your team overcome their initial pain points
Positively impacted your team's productivity and your company's bottom line
Collect the input from your sales team, managers, and customers. There are several areas you should focus on:
Ease of use
Flexibility
Scalability
Communication
Cost
Ideally, your experience in all these areas should be positive. Realistically, there will be some issues, but if you are overall satisfied and ready to recommend this freight software to others – you made the right choice!