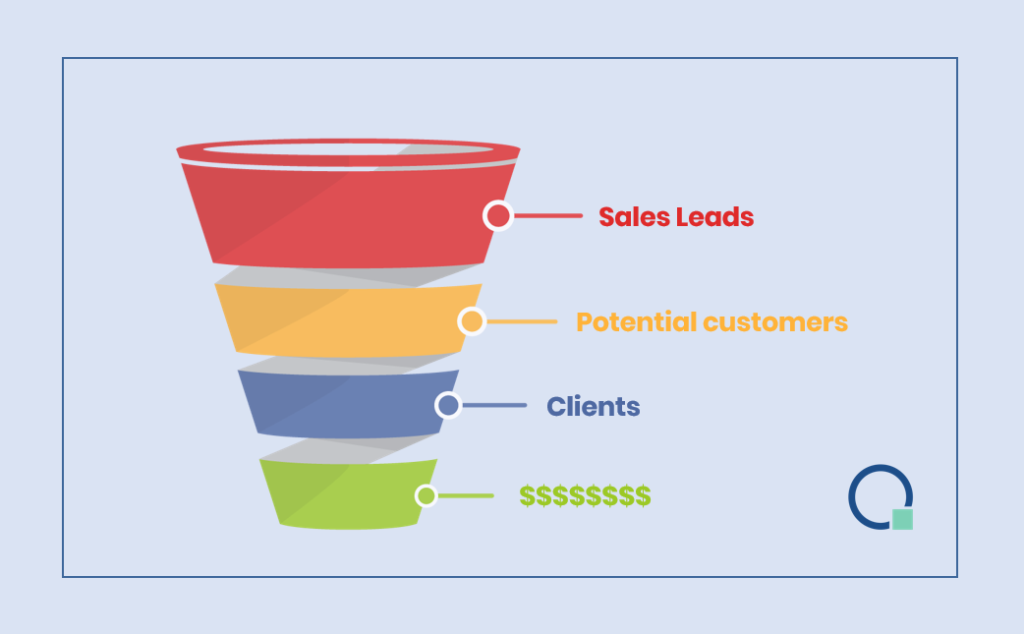 The year 2020 was a unique and unusual time for many businesses, freight forwarding included. Handshakes and offline meetings became history, face masks and videoconferencing became a new reality. Logistic conferences, economic forums, and trade shows are left in 2019, and not coming back soon. Together with the traditional offline lead generation. How do you promote a freight forwarding business in 2021?
Today, in 2021, several digital tools have proven to be a great way to generate B2B leads, acquire new customers, and grow the freight forwarding business. We will give you 10 useful tips on how to promote a freight forwarding business that you can start using right now!
Lead Generation in Freight Forwarding
In economics, one has to run to stand still. And "if you want to get somewhere else, you must run at least twice as fast as that" – The Red Queen. The number of new leads is an important key sales metric for the team – the sales funnel should always be full of potential deals to cover the unexpected losses.
The traditional way of lead generation (conferences, meetings, forums, trade shows, fairs, etc.)  is currently unavailable. The freight rates are reaching previously unseen levels, keeping your sales team very busy securing business. Online lead generation can bring certain benefits to freight forwarders, and this time it remains the only option anyway.
How to Promote a Freight Forwarding Business?
1. Optimize Your Website
Your website is your first most important asset in the online world. Make sure you have the basics covered: your page must have a modern look, the right amount of information, simple navigation, and a clear message to your potential customer. Insert the 'subscribe' box to collect emails, connect Live Chat, or add a link for a quick online consultation. Don't forget to connect analytics to your website to measure the results. You can also invest in SEO and SEM to improve the ranks of your page in search engines.
2. Optimize Your Social Media Profiles
Your social media page is your second most important asset in the online world. In the B2B segment, the preference is given to LinkedIn, but Facebook and Twitter could also be worth considering. Your company's social media profiles should be regularly updated. This way your potential clients will know that your business is 'alive and kicking, and they will be more likely to contact you. Of course, your company profile should be visually appealing, and the content should be engaging.
3. Produce Engaging Content
The information that you share on your website, blog, or social media profiles should be relevant, interesting, and engaging. It also should be unique: no copy-pasting from other resources (beware of the Google algorithms). The more engaging is your content, the more people will interact with it (like, comment, share, repost, subscribe, follow) – the bigger coverage you will achieve as a result.
4. Ask Your Clients for Referrals
People trust people and their opinions. Ask your current customers to write a review about your service, or ask them to fill in the survey and answer a few questions about their satisfaction with your cooperation. Post these reviews on your webpage (don't forget to get permission to use their name, company, photo, logo, etc.) so that your potential customers can refer to this experience.
5. Implement Targeted Campaigns
Keep your sales leads engaged by sending them regular communication. News, promotions, special offers, announcements, industry, or market events – anything that would keep your potential customers in the loop.
There are plenty of email marketing tools on the market, designed for email campaigns. However, with Quotiss freight forwarders can manage their sales leads more efficiently by sending customized freight quotes, targeted for a specific market/campaign. You can also measure the conversion ratio, open ratio, and future bookings.
6. Integrate an Online Freight Calculator
Customization of your webpage would give an extra value differentiator against your competitors. The most common differentiator these days is an online freight calculator. Shipping lines are successfully pioneering online rates, and some forwarders started to offer online freight calculators too. However, in most cases, it's a simple online form (fill in => submit => wait for email).
Real online freight calculators will soon become the new norm. The 'only' problem with them is to ensure that it always gives the quote which is relevant to the client/market, and the level is the same as if it was quoted by the sales rep. This is only possible when a freight forwarder has an excellent internal rate management tool, with applied pricing guidelines. If you'd like to learn more about such a tool, please contact Quotiss.
7. Cooperate with Freight Forwarding Networks
It would be a waste not to use the freight forwarding network effect. Most likely, you are already a member of a few networks of such a business nature. Make sure that other members of the network know about the specifics of your business. You can create separate email campaigns to keep them in the loop of the latest service updates. The network effect will increase the coverage and bring more potential leads to your company page.
8. Keep an Eye on Your Competition
Monitor your competitors online to be aware of what they are up to. Get inspiration and correct your online strategy based on the steps that they take. But also remember, that your value proposition should be unique to stand out.
9. Engage with Your Audience
Always attend to every request that you are receiving from an online channel. Unanswered comments on your company page do not give a good impression.
An idea for advanced companies: organize an online workshop or seminar on a relevant subject. Use every opportunity to tell your target audience about the benefits of trusting their business to your company. Show your expertise.
10. Simplify – Automate
The lead generation process (both online and offline) can be quite costly for any business, and it can be a complete waste of resources without proper follow-up.
Here is tip #10: simplify and automate the process of adding a new lead to your CRM system. The lead management module should be user-friendly and intuitive, very easy to use, and practical. Sales reps don't want to spend 20 min of their time updating all required fields in their CRM to create a new record, especially when there is an uncertain chance of success. Sending a 'test quote' to a new lead should be fast and fully automated.
Quotiss software can help you to automate your sales process, and simplify your sales lead follow-up. This is especially crucial at a time when most sales teams work remotely and need a smart and simple software to collaborate efficiently.
Ready, Set, Automate!
Click here to register for a free trial. We'll help with the initial settings and user onboarding. You can start quoting freight instantly on the same day we sign the deal.