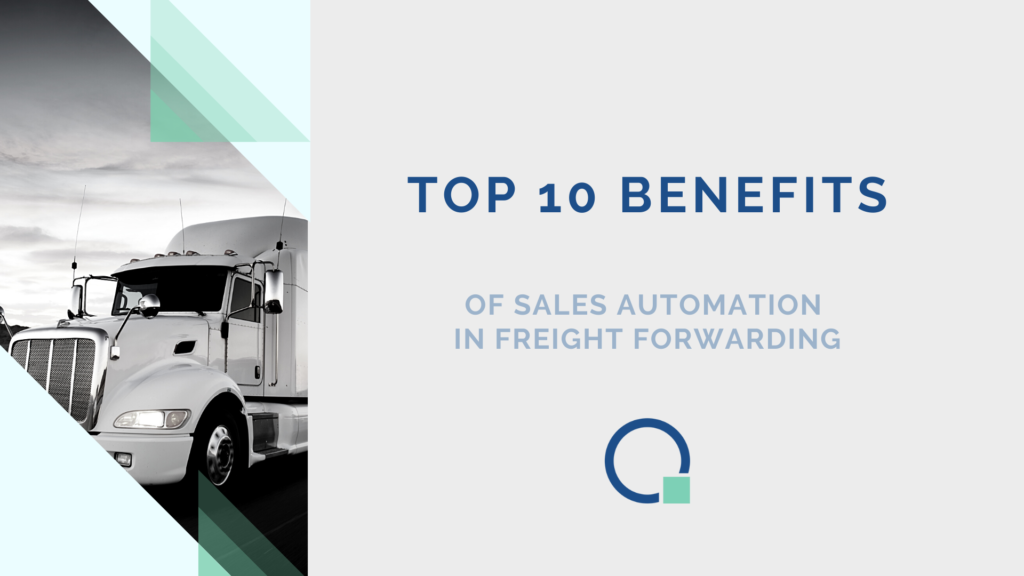 Improve your sales efficiency, get rid of manual tasks, streamline recurring activities, automate deals follow up, and more – thanks to sales automation in freight forwarding.
If you are considering automating your sales process, but still unsure what value will it bring, ask yourself these questions:
Have you ever wasted half an hour digging through your multiple Excel ratesheets or emails to find the freight rates you needed?
Have you ever lost a booking because you forgot to reply to that rate request?
Have you ever gone back and forth with a quote request figuring out how to calculate all charges correctly?
Have you ever lost a booking because you forgot to follow up on the deal?
Have you ever miscalculated your sales performance and ended up with an unfulfilled sales budget?
Have you ever spent precious time looking for that freight quote that you sent a few weeks ago?
If you said yes to any (or all) of the above, your company can definitely benefit from sales automation. This article will guide you through sales automation tips in freight forwarding.
Top 10 Benefits of Sales Automation in Freight Forwarding
Sales automation is the digitization of manual, time-consuming sales tasks using software, artificial intelligence (AI), data analysis, and other digital tools. It aims to simplify the daily sales workflow and bring transparency to the commercial aspects of the business.
Sales automation benefits your business, sales team, and bottom line in multiple ways:
Boosts the productivity and performance of your sales team
Ensures your sales deals are followed up, timely
Increases the quality of your freight quotes
Accelerates your business efficiency
Improves the accuracy of your sales process
Simplifies quoting and freight rate management process
Reduces response time which directly improves customer satisfaction
Keeps commercial data consistent across your sales organization
Brings transparency to your commercial process
Allows efficient use of sales team resources
With sales automation on your side, you can accomplish more on an average day than you used to on your best days. Your results will speak for themselves.
The Danger of Sales Automation
Obviously, you can't automate everything in your sales process, some aspects must stay human. Interaction with customers has always been the most important value differentiator for every freight forwarder. You never want to automate sales to the point when customer relationships will feel completely robotic and soulless. Think of hundreds of distributed emails with the freight rates from China that you receive every day. Usually, those emails immediately go to the spam folder. Wonder if they get any conversion with this tactic?
Sales automation is not about replacing your sales team with email distribution software. Your professional sales team is a critical and irreplaceable element to your deals. Sales automation allows your sales reps to focus less on administrative tasks and more on selling. It also ensures that your sales process is structured, easy to follow, and unified across the organization.
Your sales automation tool is the most important element for your sales automation. It is the main engine of your sales process. If the engine is not the right fit for the job, your sales process will not work at the maximum efficiency and minimal resource. If you use Excel ratesheets and manual quotes instead of freight software, you need a bigger sales team to achieve the same revenue.
Sales Automation with Quotiss
Quotiss software is everything your sales organization needs for freight rate management and sales automation. With Quotiss, you can easily upload your freight rates and local charges, automate your freight quotes (yet keep them personalized and human), track and follow up on the deals in the pipeline, and monitor sales performance in real-time.
The software itself has automation tasks — such as carrier integration, quote replication, direct reply to a quote request, quote receipt confirmation, quick access to archive data, and much more. It also feeds data via API into the other software your company uses.
Click here to register your company in Quotiss. We'll activate your account, and help with the initial settings and implementation. You can start using Quotiss on the same day we sign the deal.