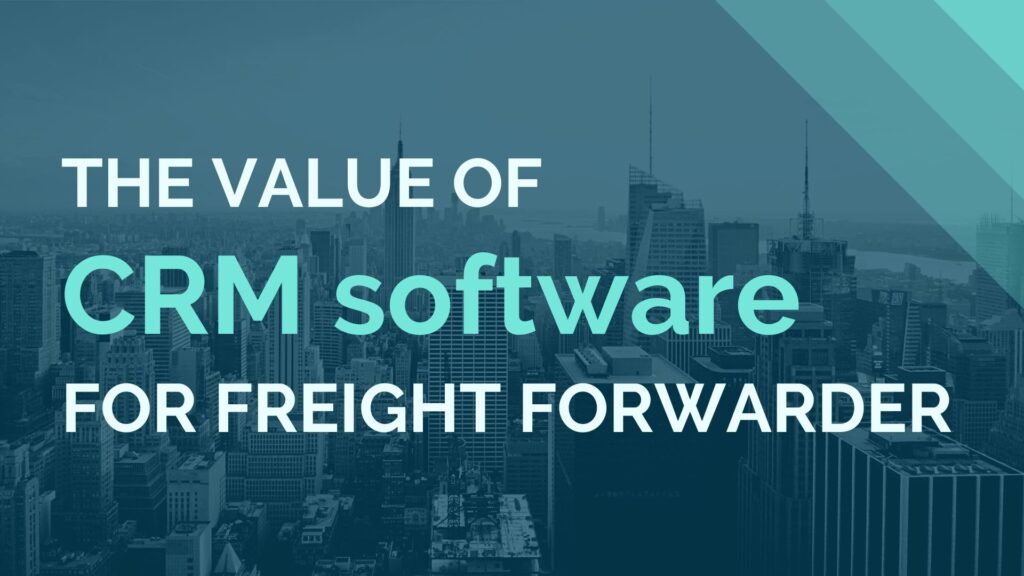 Customer Relationship Management (CRM) software is essential for businesses that want to manage and maintain healthy customer relationships. But when it comes to freight forwarding, CRM software is not so commonly used – for several reasons including resistance to change, lack of awareness, cost concerns, complexity, and lack of customization. However, as the benefits of CRM software become more apparent, more and more freight forwarders are likely to adopt this technology to improve their operations, increase efficiency, and enhance customer relationships.
What if there is a perfect CRM for freight?
At Quotiss, we aim to achieve simplicity and efficiency in any sales process. With that in mind, we designed a simple, easy-to-use CRM software with only the most essential features. By keeping the software as simple as possible, businesses can maximize the benefits of CRM technology and improve their operations.
Quotiss CRM software provides a centralized platform for managing customer data, including communication history, transactional data, and quote details. This makes it easier for freight forwarders to manage customer relationships, provide personalized service, and improve customer satisfaction.
Freight forwarders should consider using Quotiss CRM software for several reasons:
1. User adoption & satisfaction:
Complex CRM software can be difficult for users to learn and navigate. Users may be hesitant to use a system that is too complex or time-consuming to learn, which can limit the effectiveness of the software. Simple CRM software can lead to greater user satisfaction, as users are more likely to enjoy using a system. This can improve overall morale and job satisfaction, which can have a positive impact on the business as a whole.
2. Efficiency:
Simple CRM software can improve efficiency by reducing the time and effort required to perform tasks. Users can quickly and easily access the information they need, which can streamline workflows and increase productivity.
3. Customization:
A simple CRM software can be more easily customized to meet the specific needs of a business. Quotiss CRM software is a scalable and flexible solution that can be customized to meet the specific needs of freight forwarders. The software can be easily integrated with mailing systems and applications, making it a versatile and powerful tool for managing sales and customer relationships.
4. Cost:
Simple CRM software can be less expensive to implement and maintain than a more complex system. This can be particularly beneficial for small or medium-sized forwarders that may have limited budgets for software.
Quotiss CRM software provides freight forwarders a range of benefits, including improved efficiency, better sales performance, enhanced customer relationships, and real-time access to commercial data. It is a powerful tool that can help freight forwarders to compete more effectively in the global logistics market.
CRM software is only a part of sales automation
Apart from the CRM module, sales managers can enjoy other Quotiss software features and automate their business processes to the maximum:
Streamlined Quoting Process:
Quotiss software streamlines the quoting process by automating repetitive tasks, eliminating errors, and enabling faster response times. With Quotiss, freight forwarders can create and send quotes to customers in real time, reducing the time and effort required to manage sales inquiries.
Improved Sales Performance:
Quotiss provides sales analytics and reporting features that enable freight forwarders to track their sales performance, identify trends, and optimize their sales strategies. The software also provides insights into customer preferences and behavior, helping freight forwarders to tailor their offerings and increase their conversion rates.
Give it a try!
Quotiss is a cloud-based sales management and quoting software explicitly designed for freight forwarders. The software streamlines the process of creating and sending quotes to customers, enabling freight forwarders to respond to inquiries quickly and accurately.
The best (the fastest and simplest) solution for freight forwarders to go through the digital transformation is to implement the right software designed for freight forwarding companies.
Fill in this form to register for a free trial of Quotiss software. It only takes a few seconds!