A totally biased article on why Quotiss is the best freight rate management software for small and medium-sized freight forwarders.
At his previous corporate sales job, Quotiss CEO Marcin Zarzecki had never had practical software to send instant freight quotes to his clients but he knew it was crucial to be fast and efficient to achieve his sales targets.
He tried using the corporate tools, but they were not efficient and more so, added complexity to his sales routine. Then he tried good old Excel & Email combination, but that was lacking basic automation. Then he tested some of his own ideas, based on Excel templates automated by a moderate homemade macro. It was overwhelming.
The recipe for success is simple: you've got to create a million freight quotes yourself to feel the pain => become an expert in the field => find a solution => test & analyze => remove 90% of complexity => digitize => create Quotiss.
This is the principal moment where Quotiss is different from other startups in the field:
If no one at the C-level of your company ever quoted a freight rate, you can't claim to be a freight automation startup.
Rather than provide a vague comparison list of freight sales automation platforms, we're breaking down how our clients use our software to grow their business and how it could work for you too.
4 Unique Ways to Use Freight Rate Management Software
We'll save you the time of describing the basic features. Quotiss rate management software includes all the essential functions a freight forwarding business needs.
With the shift to remote work due to COVID-19, we see the increasing interest in the software that can boost sales in freight forwarding. And businesses that never even heard of sales automation software are finding Quotiss. They're using it to help them collaborate easier and work through quote requests as a remote team.
Below, we will list the not-so-obvious benefits of Quotiss that you can use to boost your sales:
Automate Marketing & Communication
You can use our powerful quote distribution engine to streamline and target your marketing message directly to the clients. Group and segment your customers by using custom #hashtags to create mailing lists.
Enhance Follow-up on Quotes
Did you know that Quotiss shows the exact date & time when your client opened the freight quote that you've sent? Use this data for a targeted follow-up with your customer!
Use Sales Dashboard
Your sales performance stats are LIVE. Know your average margins per segment, know your win rates per sales team, know how many sales leads each team generates. Make informed business decisions.
Monitor Quotiss Weekly Trends
Clients who've been using Quotiss for freight quote distribution since day one, show significant growth in the number of sent freight quotes since the beginning of the lockdown. We started sharing the weekly statistics of sent quotes on our LinkedIn page. Follow us to be up to date with the sales activity trend across the industry.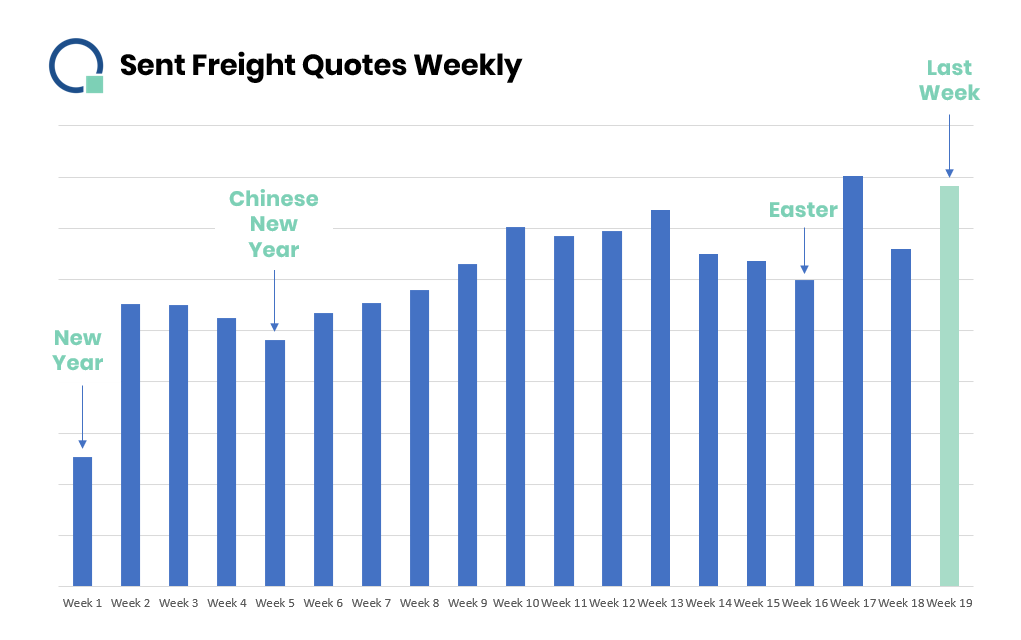 Would You Like a Quick Start with Quotiss?
Click here to register your company. We'll activate your company's profile and help with the initial settings and user onboarding. You can start uploading your freight ratesheets and quoting freight from Quotiss on the same day we sign the deal.