It's not a secret, that when it comes to container shipping, there is quite a lot of potential for optimization. There are approximately 50 000 freight forwarders in the world. They buy space on ships from the shipping lines and sell this space to shippers, usually adding more services and charges on top. It's also not a secret, that shipping lines do not display their rates online, and many attempts to do so have failed.
Now, it's easy to ask a shipping line for a freight quote, but finding an answer is becoming more and more of a challenge for the freight forwarders. Shipping lines provide their pricing guidelines (or rate sheets) via email, in the format of MS Excel, MS Word or simple email text.
The vicious circle of every freight forwarder: request freight quote from a shipping line, deal with the horrifying complexity of rate sheets of multiple shipping lines, manually retype rates and surcharges into own format, repeat for every quote.
---
Rate Sheets
---
According to Shanghai Container Freight Index, spot rates change at least once a week, adding up to 50 rate revisions per year. Let's assume that a typical freight forwarder works with 5 different shipping lines. Shipping lines send separate rate sheets for every combination of trade lane and direction. Let's assume that a typical freight forwarder will receive 4 different rate sheets per week from every shipping line.
Math is simple: 50 000 freight forwarders x 5 shipping lines x 50 revisions x 4 rate sheets = 50 000 000! 50 million massive files with complex rate structures are produced and emailed every year – this is the definition of inefficiency, as most of it is done manually.
These rate sheets come in various formats, currencies, frequencies, colors and shades (even within one shipping line, formats vary from branch to branch). They are extremely complicated to understand or deal with even for logistics experts, which makes freight cost calculations time-consuming and error-prone.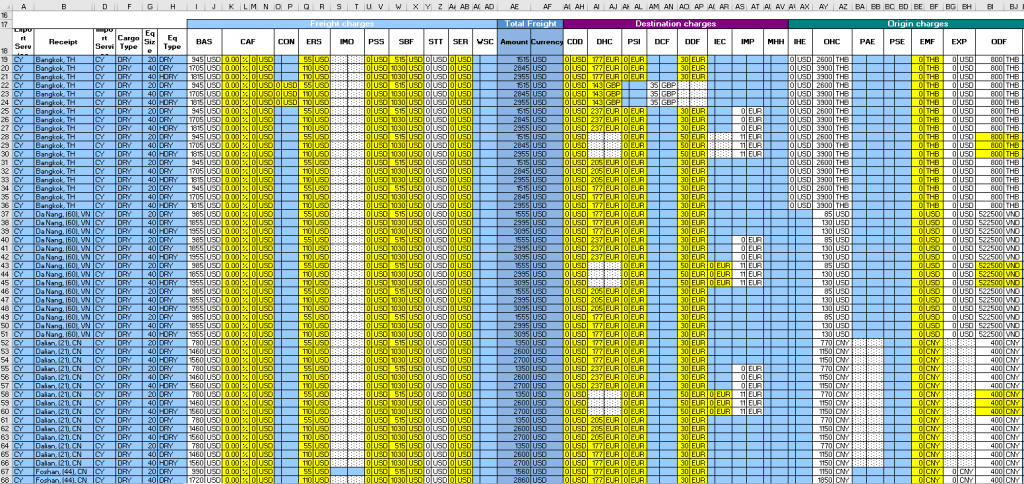 (An example of a typical rate sheet from one of the shipping lines)
Freight forwarders spend their days analysing the rate sheets and calculating final prices for their clients. Even the largest global freight forwarding companies struggle to set up electronic exchange of rates, or at least negotiate a consistent format of rate sheet with the shipping lines.
According to Quotiss statistics, it takes freight forwarders up to 24 hours to prepare a freight quote, 10% of sent quotes contain manual errors, costing the industry 10 billion USD in lost revenue.
---
Disruption Mania
---
Everyone is talking about disruption, innovation and digitization in the supply chain industry, and how ocean container shipping can change at a moment's notice. It would be great if digital freight tools could help to choose the right freight rate automatically, or compare the all-in rates by calculating all costs in a unified format. The truth is, it is not going to happen until the freight pricing structure is simplified…
---
Simplicity
---
Quotiss offers revolutionary approach to freight rate management: our unique algorithm dramatically simplifies the structure of the rate sheet prior to uploading the data into the database. Thanks to this algorithm, rate sheets become 100% transparent and it literally takes 5 seconds to generate and send a quote to client. Freight quotes generated from Quotiss are 100% accurate, guaranteed.
With Quotiss, freight forwarders can forget about having to deal with the massive rate sheets, still retaining full control of their rates. Quotiss also provides 100% transparency of sales performance: all freight quotes are archived, and quoted levels are monitored in real time. Most importantly, your commercial data always stays confidential and secure within your organization!
It takes only 3 hours of training to start using Quotiss. We offer flexible monthly payment scheme, which means you don't run a risk of getting stuck with the software that doesn't fit your business needs (and first month is free!).
Quotiss is the most efficient quoting software on the market – schedule a demo to see it in action!